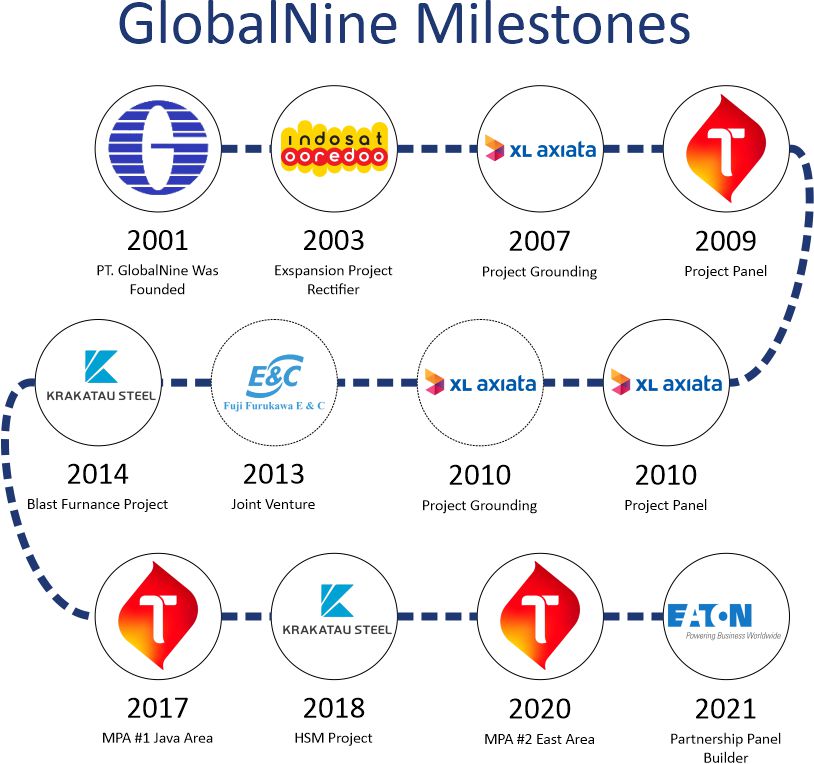 Our History
GlobalNine, short for PT. GlobalNine Indonesia, founded in 2001 as a provider of integrated power and protection solutions, is the direct answer to the fast growing telecommunications industry worldwide. Since its establishment, GlobalNine has been appointed as the sole distributor of Rectifiers, a leading telecommunications design and manufacturer.
In 2003, while supporting telecommunications implementation in rural areas, GlobalNine took another milestone, being appointed as the official distributor of FVG Energy's Solar Power Products from Italy.
In 2013, GlobalNine Joined with Fuji Furukawa, and in 2021 globalNine Joined with Eaton for LV Panel and MV Switchgear licenses.
Vision
To become a leading Electric Company that contributes to society.
Mission
GlobalNine continues to strive to be the best.
Providing quality products and services that exceed customer expectations
Able to independently produce electrical equipment on a large scale
Superior in the financial performance of the company with double growth every year
To be a company that becomes a center of building underprivileged communities